Two years have gone by since we last visited Aunty Merle on Belgravia Road and things are about to get real…really real! Aunty Merle Abrahams has survived Covid-19, lockdown and is navigating her way through the darkness of loadshedding. But now her loving husband, Dennis, is keeping a secret from her. One which is about to turn Merle's world upside down. Her spirits may sink even lower than her sunken lounge.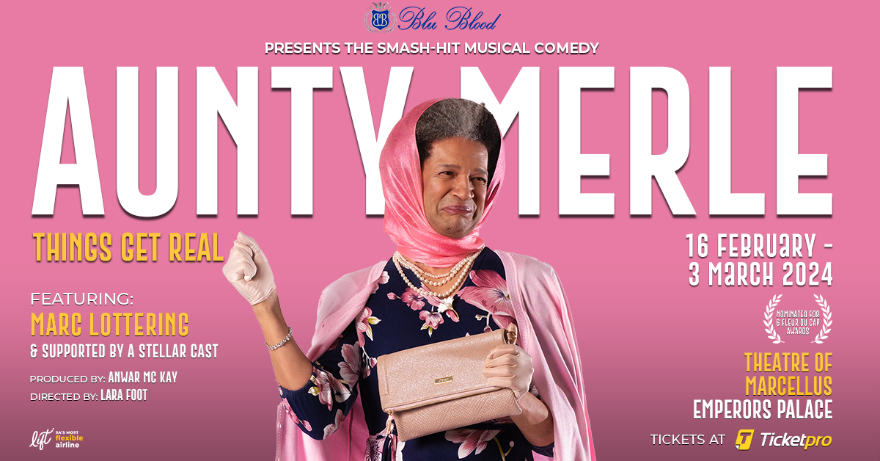 "When I started creating this story, the world found itself in a delicate space post-Covid, along with South Africa facing its own burning issues. The challenge was to acknowledge the realities of the world Aunty Merle was living in but to also keep the audience laughing," shares Lottering on where he drew inspiration for the new offering.
Directed by Lara Foot and produced by Anwar Mc Kay, the role of Aunty Merle is played by Marc Lottering supported by a stellar ensemble including Royston Stoffels, Loukmaan Adams, Jawaahier Petersen and Carmen Maarman. They are accompanied by a six-piece band led by musical director, Trevino Isaacs with choreography by Grant van Ster. The show debuted in Cape Town to critical-acclaim and received 6 Fleur Du Cap award nominations.
"Fans can expect a brand-new story with a dynamic cast, beautiful original music, laughter, sadness and then some more laughter. Aunty Merle is outrageous with a good heart. She has the most ridiculously delicious gestures and dance moves which I would never be able to get away with in normal life," he adds.
Aunty Merle Things Get Real is proudly brought to you by Blu Blood. The show runs from 16 February to 3 March 2024 at Theatre of Marcellus, Emperors Palace. Performances run at 20h00 on Fridays & Saturdays with matinees at 14h00 on Saturday & Sunday. Tickets from R220 are available through Ticketpro and Spar Payzone kiosks.
"You will laugh until you cannot laugh anymore. It is a deeply therapeutic experience." – Broadway World
"It's a massive musical beast… including some 15 songs, either solos or full-company tunes. This, on top of a multi-part script with a lot of moving parts, and you've certainly got your money's worth for a night out." – Karen Rutter, Weekend Special
"Aunty Merle – Things Get Real – is a comic and musical triumph." – The Cape Robyn
"The musical is refreshing and an excellent theatrical tonic of humour." – IOL