As the calendar inches closer to the most wonderful time of the year, Melrose Arch, Gauteng's premier lifestyle destination, is thrilled to announce its plans for the upcoming festive season. With an air of excitement and anticipation, Melrose Arch proudly presents Destination Christmas.
Melrose Arch invites visitors to immerse themselves in a world of enchantment and wonder, as the precinct will be transformed into a glittering wonderland that will capture the hearts of all who cross its threshold. The Christmas lights will be illuminated at 19h00 on Friday, 24 November, officially heralding the start of the festive season celebrations, creating the prettiest spot in Johannesburg to enjoy the festive sparkle.
On Saturday, 25 November, the renowned Drakensberg Boys Choir will be performing Christmas Carols on the Piazza at 18h30. With an enhanced repertoire, the world renowned choir are poised to perform under the starlit sky, serenading visitors with timeless classics and their harmonious melodies. Proceeds from tickets, which are available for R 200 each from Computicket, will be shared equally between the non-profit organisation SA Harvest and the Drakensberg Boys Choir School. Limited seating is available on the Piazza or at adjacent restaurants.
Embracing the appeal of premium brands, Destination Christmas will ensure visitors to the centre enjoy the world's best branded experiences. The Jameson Whisky glass tree, made from empty bottles with a built-in lighting system that creates a stunning green glow, will be displayed on Slip and Cross Street until mid-December.
Johnny Walker Blue Label will be hosting an exclusive Umami pop up, where one can shop JW SDLX favourites and the limited edition Blue Label Reserve from 22 November – 15 December. Here, guests can customise their JW bottles with a selection of bespoke engraving options, where a name, date, symbol or initials will transform a bottle into a cherished keepsake.
For the little ones, the Pringles x Fanta Playground, between 11 – 31 December, promises a taste bud adventure with flavours to savour and loads of fun waiting to be had! Picture a vibrant, larger-than-life installation that combines the iconic stackable Pringles cans with the fizzy, fruity excitement of Fanta, where the holiday spirit comes to life one chip and sip at a time.
From 8 – 31 December, visitors to Melrose Arch will be able to enjoy a selection of snacks, sweet treats and drinks to accompany the experience of strolling through the Christmas lights. From 18h30 to 22h00 every day, candyfloss, popcorn, sweets, cold drinks, ice cream and doughnuts will be available to purchase from stalls lining the top of the High Street, providing the tastiest way to enjoy the festive splendour.
A firm favourite on the annual calendar, the Jeppe Pipe Band will return to Melrose Arch on Friday, 15 December at 19h00, to add to the festivities with a bespoke festive performance in the precinct. This unique presentation by one of the country's oldest and most celebrated school bands, will blend Carols with all-time pipe band favourites in a musical fusion. While there is no cost to attend the concert, in the spirit of the season, visitors will be invited to make a contribution to CHOC (Childhood Cancer Foundation South Africa) with donation boxes available on the High Street that evening.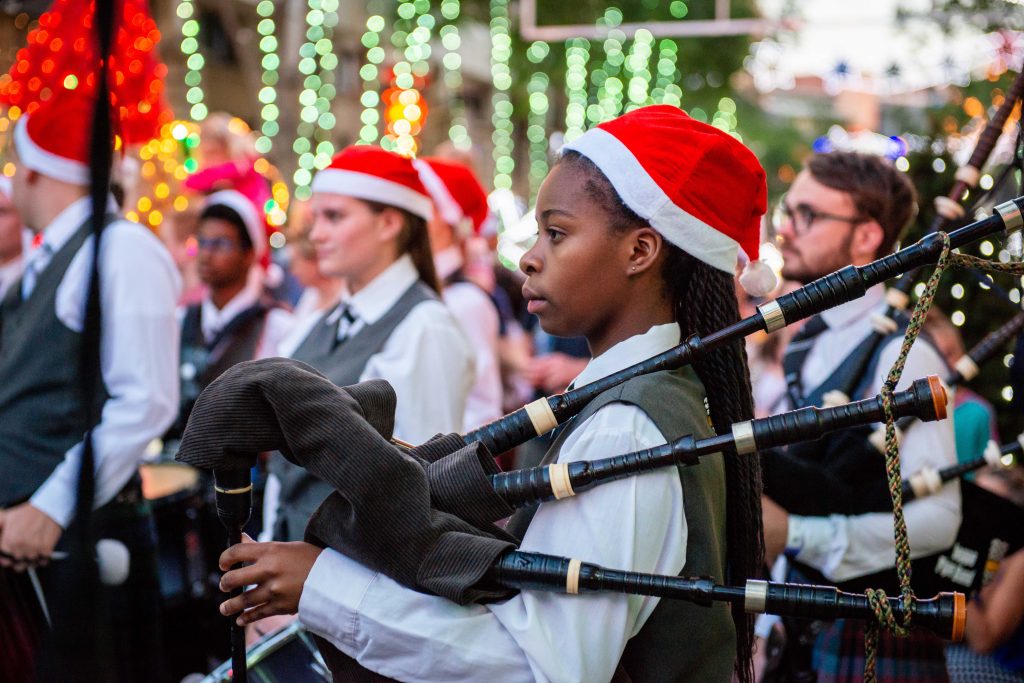 A magical Christmas market will be unveiled on the Piazza on Wednesday, 29 November, and stay open until Saturday, 2 December. Open daily between 15h00-21h00, here shoppers can enjoy an additional variety of Christmas décor and gifting. From handcrafted pieces, delicious food and sweet treats, bespoke jewellery, ladies and children's clothing, toys, homeware, accessories and more, this market will fill any Christmas stocking with just the right amount of sparkle.
Later in the season, the Melrose Arch Market, which is held in the retail Galleria every week, will be hosting a special festive themed market from 15 – 16 December, from 11h00 – 19h00, offering delicious food and sweet treats, arts and crafts, jewellery, clothing, organic vegetables, homeware and more.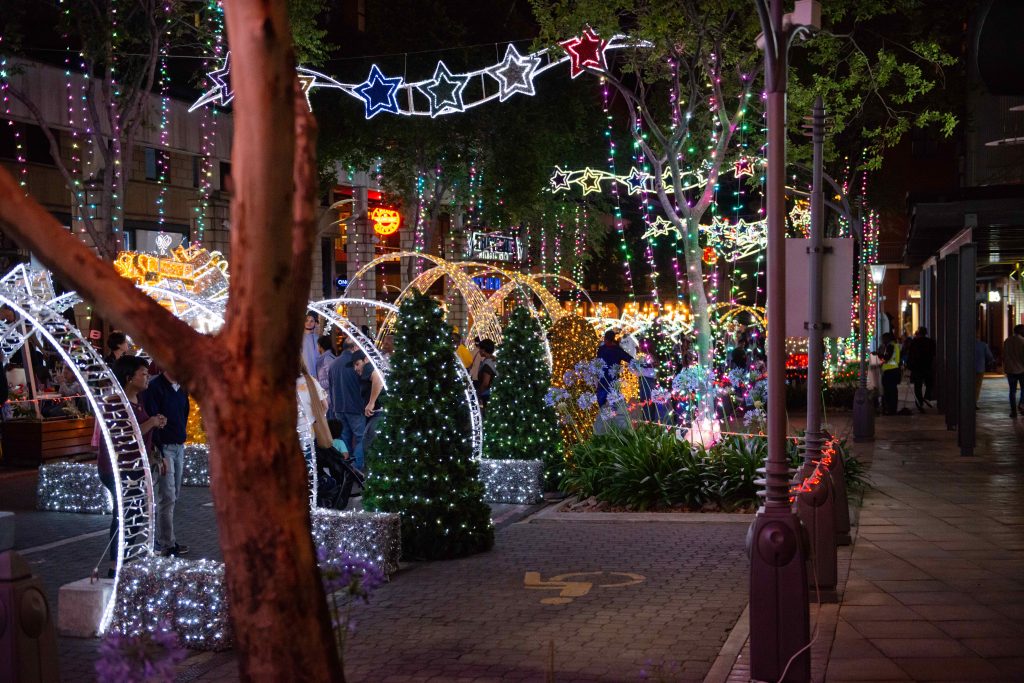 Of course, no Christmas is complete without Santa and his elves. While nobody can predict the movements of the bearded man, he and his troupe of Christmas elves, together with a snowman from the North Pole, are expected to make an appearance in the precinct too. They will be available for photographs and last-minute gift requests from those who have been good on 15, 17, 22, and 24 December.
Selecting the perfect gift should be enjoyed with the luxury of time, particularly in such an exquisite setting. Melrose Arch's over 100 retailers will offer extended trading hours from Friday, 1 December to Saturday, 23 December, ensuring that shoppers can enjoy browsing the eclectic mix of local and international brands in this treasure trove of fashion, homeware, gift and specialty stores, till later in the evening than usual.
Get ready for a holiday season that shimmers and shines with unimaginable magic, where hearts come alive with the true spirit of Christmas at the ultimate destination for festive cheer, this year at Melrose Arch.
For further details on Melrose Arch, its retailers, the Destination Christmas festive activity programme and trading hours visit https://melrosearch.co.za/.