The Walt Disney Company marked its 100th anniversary on October 16th, 2023, and throughout the year, has been celebrating the fans and storytellers who have sparked the joy and magic that is Disney over the last 100 years. This December, families will be able to continue the celebrations as the Disney100 Outdoor Cinema Experience lands in Johannesburg and Cape Town.
From 7-17 December 2023 at the V&A Waterfront Croquet Lawn and Waterfall City Park at Mall of Africa, Disney fans of all ages will be able to experience the magic of Disney with six timeless stories during the day in the warm summer air or under the stars in special evening presentations.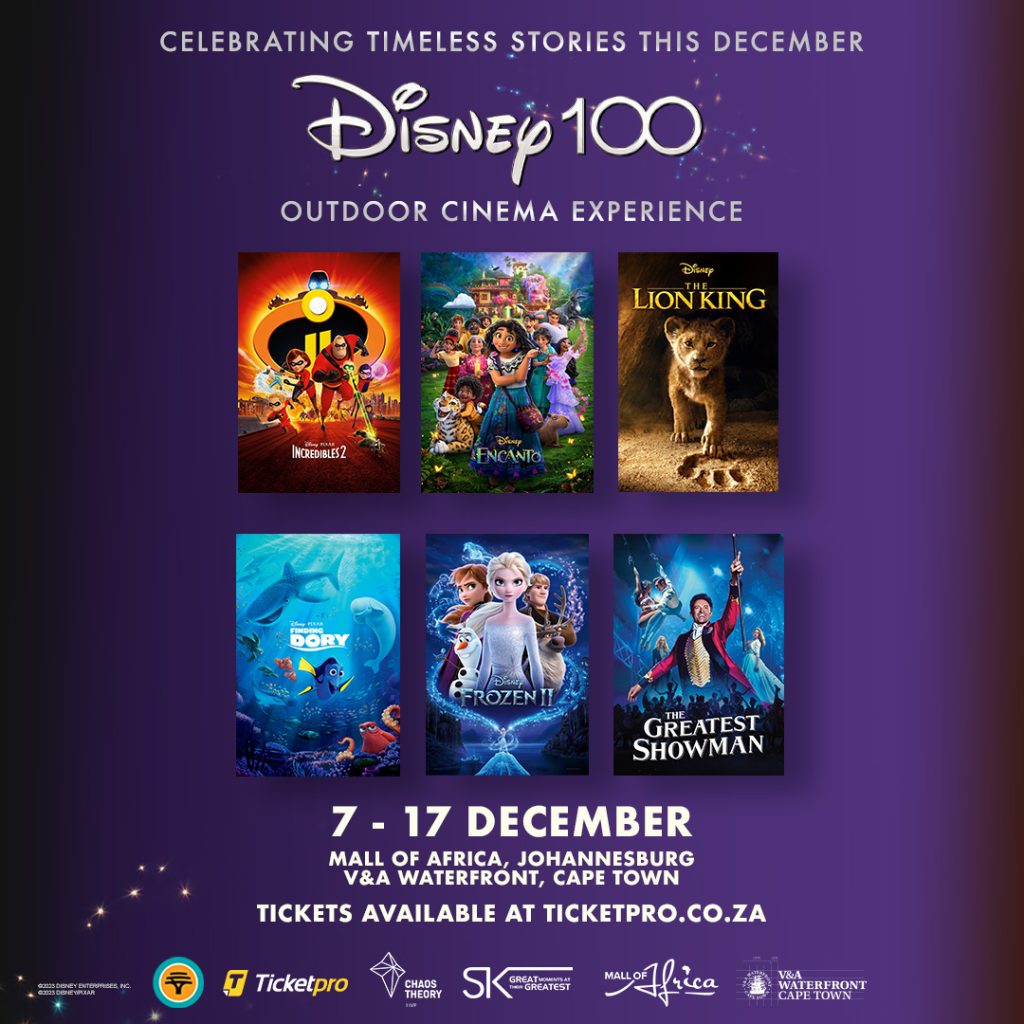 The films being screened include Disney's The Lion King (2019), Frozen 2 and Encanto, Disney/Pixar's The Incredibles 2 and Finding Dory, as well as The Greatest Showman.
Presented in partnership with FNB as part of its 100 Days of Summer campaign and Ster-Kinekor, the D100 Outdoor Cinema Experience offers a unique experience for families this festive season. Guests are encouraged to add to the exciting atmosphere by coming dressed up inspired by their favourite Disney character and participating in the various activations and activities on offer, on top of the films themselves.
Tickets are available at R100 each, with a 20% special discount offered to FNB Card Holders and are on sale now at TicketPro. Ster-Kinekor will provide their well-known snack and confection offerings.
Says Christine Service, Senior Vice President and General Manager of The Walt Disney Company Africa: "We are excited to be creating an exciting outdoor event for fans and families of all ages to relive their most beloved Disney memories and to delight in new, heart-warming stories and experiences."
Faye Mfikwe, FNB Chief Marketing Officer says, "With a 185-year history, FNB is proud to join forces with The Walt Disney Company Africa on this outstanding milestone. We invite all our customers to attend this great initiative with their families and friends, as we wind down and enjoy the holiday season. Our long-term collaboration with Disney, continues to reflect our core values as a family bank."
Says Andrew Ross, Managing Director of Chaos Theory: "We are thrilled to collaborate with The Walt Disney Company Africa, First National Bank and Ster-Kinekor on this exciting event for the festive season."
Fans are encouraged to share their thoughts and experiences on social media with the hashtag #D100OutdoorCinemaZA.
Together with Ster-Kinekor, the Disney100 Outdoor Cinema Experience is brought to you by First National Bank.