Rhythmic tapas for the soul
El Rincon Flamenco, the Johannesburg-based Spanish dance company, is to stage a glittering dance extravaganza, Esencia Flamenca, at The Lesedi (formerly known as The Fringe and Tesson Theatre), Joburg Theatre, from 30th May to 2nd June 2019.
This heady cocktail of passion, drama and rhythmic tapas for the soul is guaranteed to lift the spirit and have you toe-tapping in your seat.
Esencia Flamenca means Essence of Flamenco in English and the spectacular show, directed by the celebrated Dame Hazel Acosta, who founded the El Rincon company 30 years ago, encapsulates the pulsating spirit of the dance in its myriad of forms.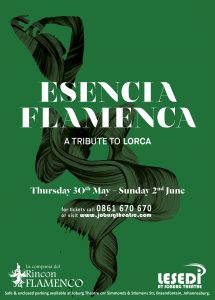 Dame Hazel is using the show to pay homage to the prolific Federico Garcia Lorca, the famous Spanish poet, playwright and theatre director of the 1930's.
The first half of the show is inspired and based on the play, The House of Bernarda Alba. Set in a house in a Spanish village, the story uncovers the intertwined dynamics between a family's matriarch and her daughters.
Joanne Bobrow and Rosana Maya, co-producers and choreographers, portray this renowned work in a contemporary, ambient setting with immense attention to detail.
Bernarda is adapted by Rosana Maya and she will be performing the title role of Bernarda.
The second half of the show is imbued with different, yet equally delicious flavours, and is mostly choreographed by Mireille Lenferna.
It has the power to entice its audience into savouring the quintessential cornerstones of authentic flamenco; live music, song, rhythm and of course, dance.
Adding style and glamour to the production are El Rincon's talented crew of principal dancers, South Africa's own guest stars, Durban guitarist Demi Fernandez and Cape Town dancer and percussionist (Ndumiso 'Faya' Tafeni). There will also be a troupe of exciting up-and-coming talent.
Since 2005 Esencia Flamenca marks the fourth major theatre production under the co-directorship of established dancers and former students of Dame Hazel Acosta, Joanne Bobrow and Mireille Lenferna.
The company boasts a dozen hand-picked dancers, most of whom are also creative souls within their own careers.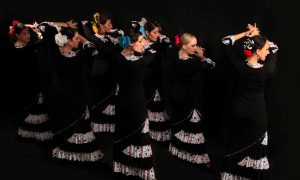 Bookings can be made directly through the Joburg Theatre or telephonically on 0861 670 670.
Groups of 10 or more will benefit from discounted rates – these are available by calling (011) 877 6853.
Ticket prices are R230 per person for all the shows.
Hurry and don't miss out on this flavoursome delight!
Would you like to win a set of double tickets to watch the show? Head on over to my Facebook page for more details.