Paris, the capital of France is known for it's rich history, art, architecture and historic landmarks such as the Eiffel Tower. It's mostly known as the city of love too. Some of you have already had a chance to visit this beautiful city and others, (such as myself) have Paris down on our travel bucket list to visit one day. In the mean time why don't we live vicariously through an inspiring book filled with stories based all in Paris. Grab a cup of something to drink and let's take a trip to Paris for One.
Paris for One
When Nell is stood up by her boyfriend at the train station she feels like her whole world has fallen apart. With hopes that he will join her later, she hops onto the Eurostar to Paris and so her adventure Begins. Alone in the city of love and lights, Nell finds herself at the Diego Rivera and Frida Kahlo Exhibition. This is where she meets the charismatic, charming waiter and struggling writer Fabien.
What started out as a disappointing Paris getaway, turns into the best 48 hours of Nell and Fabien's lives. Together they rediscover what it means to truly live and be happy. When all the adventure and excitement of the past 48 hours is over, what will happen with these two star crossed lovers? Will they go back to their own lives like nothing ever happened? Will Nell go back to her unappreciative boyfriend? The only way to find out is if you read this book yourself.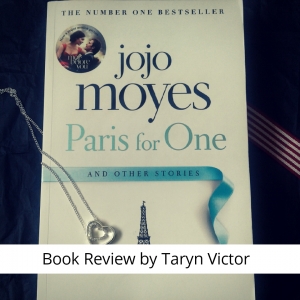 And Other Stories
After Paris for One the rest of the book is a collection of short stories, which all take Place in Paris. Each story does not start and end in one chapter, but rather continues in one or two chapters later in the book. This was cleverly done by Author Jojo Moyes, as this leaves you intrigued as to how that story will end. Jojo Moyes leaves you anxiously anticipating the ending and in some cases the ending is not what you would have expected it to be.
About the Author
Jojo Moyes is an English journalist, novelist and screenwriter. She is one of only a few authors to have twice won the Romantic Novel of the Year Award by the Romantic Novelists' Association, and has been been translated into twenty-eight languages. Her number 1 best selling novel Me Before You which was later made into a huge film, staring Sam Claflin and Emilia Clark was released in summer 2016. Novels that followed include The One plus One, After You, and most recently Still Me.
Conclusion
I thoroughly enjoyed Paris for One and Other Stories. I am not a complete romantic at heart when it comes to novels, but this book definitely stole my heart. Jojo Moyes leaves the imagination running wild with her beautiful descriptions of Paris. You cannot help but feel you are in the city of love yourself, experiencing all the events that are happening while you read the book. You do not have to be a hopeless romantic to read this book, as its enjoyable light reading makes it hard to put the book down. So if you want to get lost in Paris just for a while, get yourself a copy of Paris for One and Other Stories. Who knows if you haven't already, one day you might just be experiencing this beautiful place for yourself.
Happy Reading!