Winter is slowly drawing to a close and things are warming up this September. It's time to celeberate the new season In Good Taste and head on over to Montecasino to enjoy a good laugh with one of South Africa's favourite comedians…
Deep Fried Man, whose unique blend of music, comedy and satire has been seen on television, radio and comedy stages nationwide, is back with brand new material for his fifth solo show.
Since 2010, Deep Fried Man has established himself as South Africa's number one musical comedian. He has appeared in films (Material, Mrs Right Guy), on television (Late Nite News With Loyiso Gola, Laugh Out Loud, The Mayor) and has been featured in four Comedy Central specials.
Onstage he has gone from opening for Trevor Noah to featuring in some of SA comedys biggest shows (Blacks Only, Bafunny Bafunny, Kings and Queens of Comedy) and writing custom songs and performing for some of SAs biggest brands. While he is perhaps best known for his TV appearances, Deep Fried Man is best seen live, where his audience interaction and improvisation skills ensure that no two performances are the same.
The original In Good Taste was met with acclaim when it premiered at the Lyric Theatre. Now he is out to prove that sometimes the sequel is better than the original, with an intimate one-man show packed with hilarious songs and magnificent musical improv that will have the audience joining in and singing along.
My Review:
After the busy week I just had, I welcomed the opportunity to watch the show on a sunday afternoon. As this was my first time watching Deep Fried Man live on stage, I was excited to see what he had in store for us. The show was opened by comedian Kraai Du Toit, who gave us a few laughs to start off the show.  While waiting for Deep Fried Man to make his entrance on stage, there seemed to be a start up of loud chatter two rows behind us. When I turned around it was indeed Deep Fried Man's way of making his grand entrance.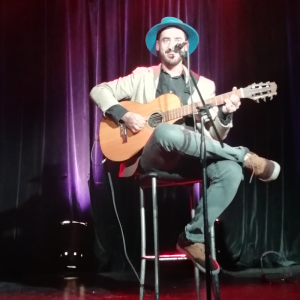 One of the things I loved about the show was Deep Fried Man's engagement with the audience. A few times through his set he would stop and ask the audience for a topic or subject, and then turn that into a song that left us in a rage of laughter. At times we even sang along to the chorus of a song. I'll just be straight with you… I absolutely loved the show! I laughed so much that I was literally in tears from all the laughing through out the show, and so was everyone else in the audience. The show is hilarious and just what I needed to end off this week In Good Taste.
You have one week left to watch the show, so for a comedy show like no other do yourself a favour and book your tickets now. In Good Taste 2.0 runs from 5 to 16 September 2018 at Montecasino. Ticket prices range between R130 to R180 and  are available from the Box Office at Montecasino, and through Computicket
Show runs from Wednesday to Saturday at 20h00, Saturday Matinee at 16:00 and Sunday Matinee at 15:00.
Deep Fried Man in In Good Taste 2.0 will be showcasing at The Pieter Toerien Theatre in Montecasino. Book now at Computicket to not be disappointed.
Information and Pictures Courtesy of Whacked Management
Show Images are my own.