There was a sense of anticipation and excitement all round as we waited for the Mandela stage to come alive at the packed Joburg Theatre. Finally the lights dimmed, everyone was seated and all forms of chatter had come to a halt. The time had finally come to watch the most anticipated musical of the year…Calling Me Home.
The story line:
The story begins in Africa where a young woman named Grace (Lynelle Kenned) and her brother Nelson (Musanete Sakupwanya), face an oncoming war. In fear of her safety Grace is forced to abandon everything she loves, and flee her home country to the uncertainties of a new urban jungle, where concrete structures block out the stars in the sky, while Nelson joins the army.
As Grace begins her journey she meets others like her with similar stories of survival, compassion and courage. They become her friends, travelling companions and family. One of those individuals is a feisty and lively woman by the name of Lindiwe (Zolani Mahola).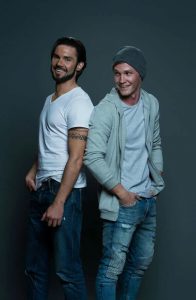 Without giving away too much of the story line you will also meet best friends Rafael (Anthony Downing) and Ben (Michael McMeeking) who will keep your eyes and ears glued to the stage. Rafael's sister (Samantha Peo) is romantically involved with gang lord Ivan (Christiaan Snyman) and this leads to many twists that you would not see coming.
I may not be a critic, but I thoroughly enjoyed the premier of the Calling Me Home Musical. You have a star studded cast with musical voices that send tingles down your spine, and quick and efficient prop changes that will only leave you impressed. The production was about 3 hours long, but kept you at the edge of your seat and in the end wanting more.
Compliments to Director Magdalene Minnaar, Composer/Producer/Musical Supervisor Alice Gillham and the rest of the team on a splendid production.
With that said I took 3 things away from this production:
1) The Calling Me Home musical has reignited my love for theatre.
2) When you believe in your hopes and dreams, you can make them a reality.
3) Home is not a place. Home is where the heart is.
But do not take my word for it. Book your tickets now and experience this masterpiece for yourself.
Calling Me Home is a story based on hope, love and home. So the question is…Where will Grace find her true home?
Calling Me Home is showing from the 17 August 2017 – 3 September 2017 –  The Mandela at the Joburg Theatre. Tickets can be booked now at Webtickets.
Information and Visuals from http://www.callingmehomemusical.com and the Calling Me Home Musical Facebook page.